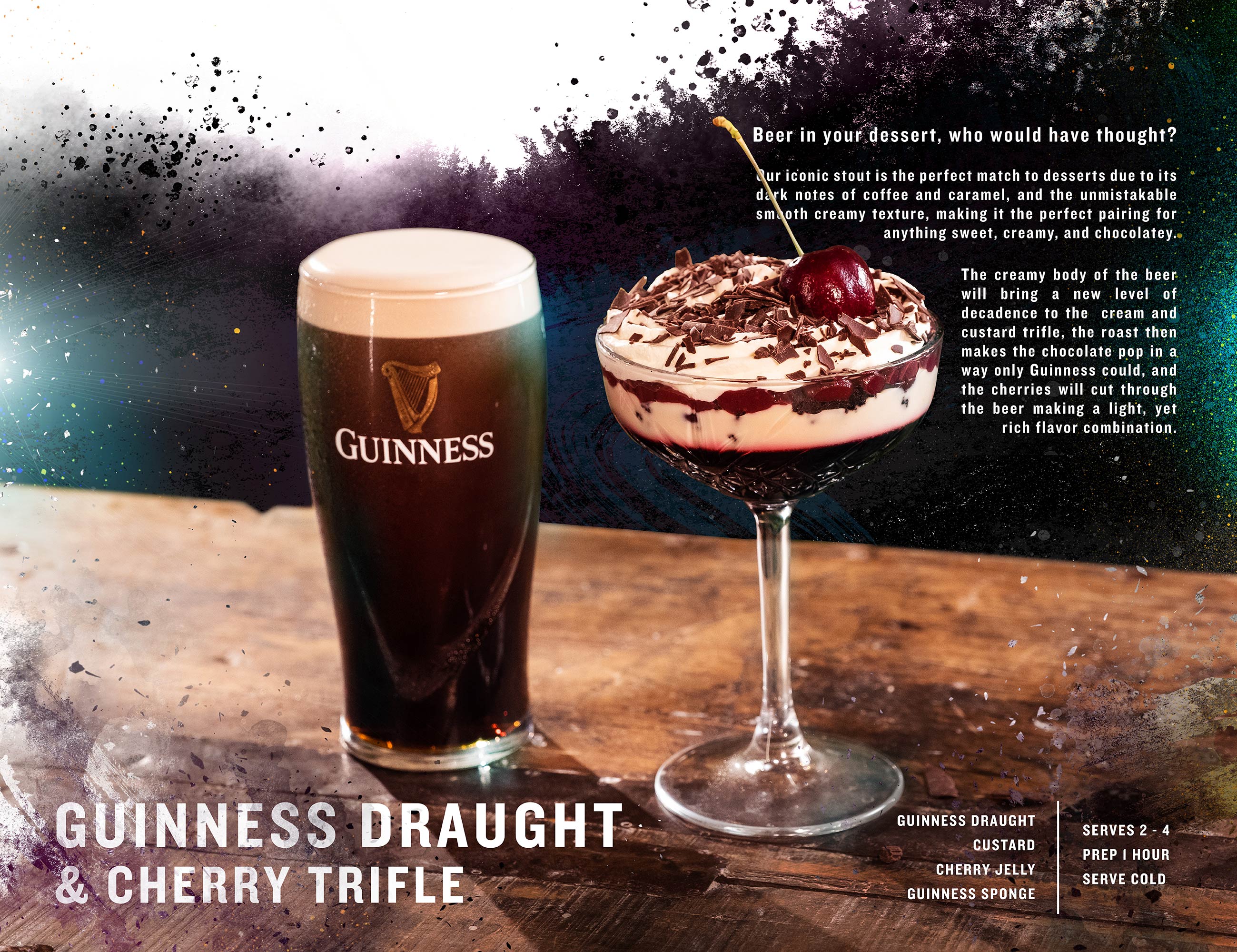 Guinness sponge
Preheat the oven to 180°C and line a baking tray with greaseproof paper. Pour the Guinness into a large saucepan, add the butter and heat until melted. Once the butter has melted, take it off the heat.
Add the cocoa powder and sugar into the butter, combine together and mix well.
Beat the sour cream, eggs and vanilla together in a separate bowl and pour into the butter mixture. Once combined, sieve in the flour and bicarbonate of soda folding it altogether. Be careful not to over mix!
Pour the batter into the lined tray and bake for 30 mins, allow to cool completely in the tray or on a wire rack.
Cherry Jelly
Place cherries, lemon zest and lemon juice into a saucepan. Heat the cherries over a medium heat for 5 to 10 mins or until juices release and cherries soften.
Remove from the heat and allow to cool slightly. Place the cherries into a food processor and blitz until smooth.
Strain the cherries back into the saucepan on a low heat.
Soak the gelatine leaves in cold water, then stir into the puree and combine until the gelatine has fully dissolved.
Remove from the heat until ready to pour.
Irish Custard
125ml Whole Milk

125ml Baileys

300ml Double Cream

1 Vanilla Pod

4 Large Egg Yolks

50g Castor Sugar

2 Tablespoons Corn Flour
Pour the milk, Baileys and cream into a saucepan, add the vanilla. Gently bring to a soft boil.
In a bowl, whisk the egg yolks, sugar and corn flour together. Whisk until all ingredients are incorporated together and the mixture is smooth.
Gradually pour over the hot milk mixture, whisking vigorously.
Pour the custard through a sieve into a clean saucepan and cook out on a light heat for 5-6 mins. Remember to keep stirring, you don't want your custard to curdle. Once the custard has thickened, its ready!
When cooling custard, decant into a clean jug or container and cover it with cling film so it doesn't form a skin.
Crème Chantilly
500ml Double Cream

4 Tablespoons Castor Sugar

1 Teaspoon of Vanilla Extract
Whisk all three ingredients together, until your cream is at a medium peak! Don't over whisk.
Assembling Your Guinness Trifle!
Choosing your favourite trifles glasses or bowls, layer the bottom of them with the delicious, moist Guinness sponge.
Pour the cherry jelly over the sponge, covering it to allow the jelly to set into the sponge.
Once done, put this in the fridge for 2-3 hrs until the jelly has set.
When set, pour a layer of the deliciously smooth Baileys custard on top. Ensure each layer is consistent. Allow the custard to further set in the fridge for a further 2 hrs.
Once set, top your Guinness Trifles with whipped cream and enjoy!