1. Beef Stew and Guinness in The Brazen Head Pub Dublin:
Considered one of the oldest pubs in Dublin, located in Merchant's Quay just around the corner from us here at the Guinness Storehouse, renowned for its lively atmosphere, enchanting live music, and exceptional pub fare. It's a must-visit location for locals and tourists alike, offering a taste of true Irish hospitality. The Brazen Head serves a traditional Irish stew that's a perfect companion to a cold pint of Guinness. The rich, hearty flavours of the stew, combined with the beer's robust body, create a divine pairing.
2. Shepherd's Pie and Guinness in The Old Storehouse Bar & Restaurant:
Here, you can savour the quintessential comfort food - Shepherd's Pie. This cosy dish and the creamy Guinness work harmoniously, offering a heart-warming dining experience. Nestled in the heart of the iconic Temple Bar district, The Old Storehouse Bar & Restaurant serves up traditional Irish food and music daily. Its rustic decor, warm ambiance, and friendly staff make it an irresistible stop for a memorable dining experience.
3. Oysters and Guinness in the 1837 Bar & Brasserie at the Guinness Storehouse:
A classic combo, the sea-fresh oysters strike a delicate balance with the stout's bitter undertones, proving that opposites truly do attract. The 1837 Bar & Brasserie, named after the year the classic pairing of Guinness and oysters was first noted, offers a stylish dining experience within the famous Guinness Storehouse. With stunning views over the city and a menu that showcases fresh local produce, it's the ideal place to relish your Guinness alongside delectable cuisine.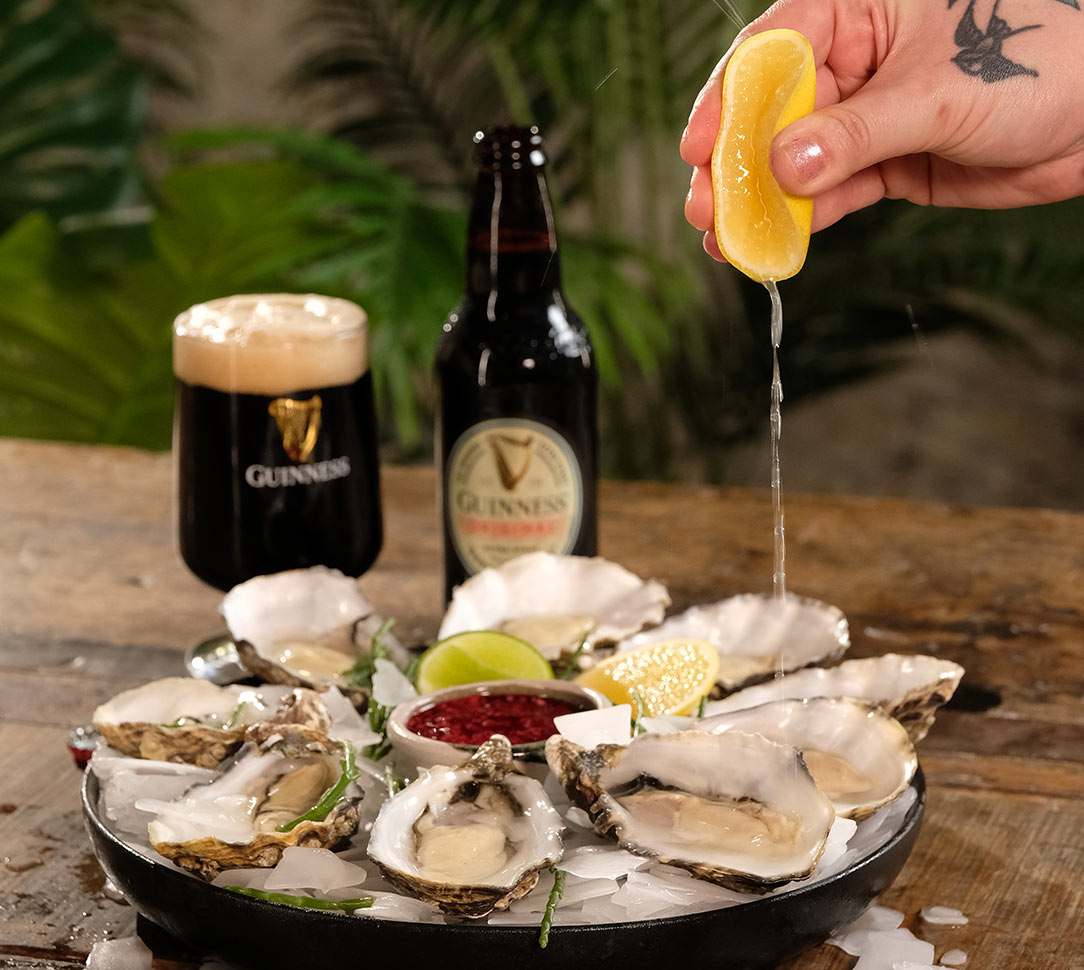 4. Fish & Chips with Guinness in Darkey Kelly's Bar & Restaurant:
Darkey Kelly's is a vibrant traditional Irish pub located near Christ Church Cathedral. Known for its lively traditional music sessions and friendly atmosphere, it also prides itself on serving high-quality, locally sourced food, including some of the best fish and chips in Dublin. The crispy batter of the fish and the soft flakiness of the chips provide a delightful contrast to the rich creaminess of the Guinness.
5. Beef and Guinness Pie in Sheehan's Pub:
A traditional Irish delight, the succulent beef and Guinness pie at Sheehan's is a rich, savoury symphony that pairs beautifully with a glass of Guinness. This cosy, family-owned pub located on Chatham Street is a local gem. Sheehan's Pub combines the relaxed atmosphere of a traditional Irish pub with a contemporary edge. The pub is highly regarded for its warm service, quality drinks, and its exceptional Beef and Guinness pie.
6. Guinness Soda Bread at l'Gueuleton:
Soda bread, a staple of Irish cuisine, achieves new heights when enjoyed with Guinness. This combination at l'Gueuleton is particularly popular. Located on Fade Street, which again, is only a short walk from the Guinness Storehouse, l'Gueuleton is a popular French bistro that beautifully blends French culinary techniques with Irish ingredients. Renowned for its delicious food, particularly its Guinness Soda Bread, l'Gueuleton is the place to go if you're looking for a chic, continental twist on Irish dining.
7. Beef Ribs and Guinness at the Bull & Castle:
The tender, fall-off-the-bone beef ribs from Bull & Castle are an exemplary mate for Guinness, their robust flavours standing strong against the stout's complexity. An upscale steakhouse and gastropub, the Bull & Castle is famous for its wide selection of craft beers and its locally sourced, expertly cooked meat. Located close to Christchurch Cathedral, its laid-back ambiance, attentive service, and the legendary Beef Ribs make it a favourite among Dublin locals.
As we've toured the streets of Dublin from the comfort of your screen, you now know that finding the right food to accompany your Guinness can transform a simple meal into an unforgettable dining experience. Ready to embark on your own culinary adventure? Dublin awaits, pint in hand!
Remember, the best pairings are those that make your taste buds dance. So, don't be afraid to experiment and share your own Guinness pairings. After all, the joy of food and drink lies in the shared experience, each pint and plate bringing us closer together. Cheers!